IPR easily – Terms relating to time (part 3)
–
News
–
14.3.2023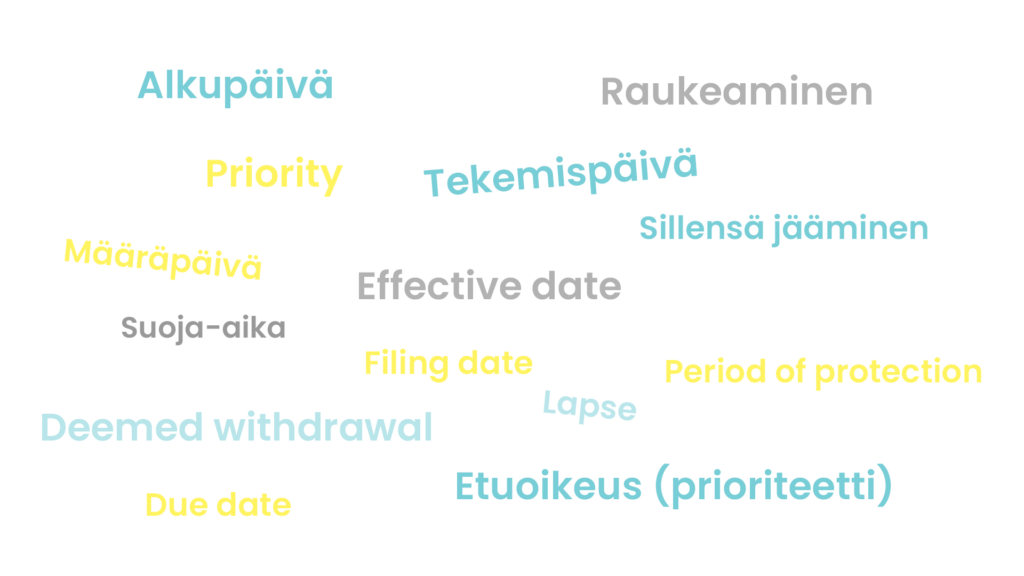 In the third part of the series IPR easily we will deal with terms relating to time
Deemed withdrawal
If an office action is not replied to or another required action is not carried out, the application is typically deemed withdrawn, i.e. it is no longer pending. This is thus not an active action from the applicant, as a withdrawal, but a passive action. Often an application that is deemed withdrawn can be revived by requesting further processing within a time limit (typically two months), by paying the required fee and carrying out the missing act(s).
Due date
A date by which something needs to be done. Due dates (or time limits) typically come either from a law (such as the end of the priority period) or from an office action. Some due dates can be extended either by simple request or by a combination of a request and a fee. Some due dates are not extendible.
Effective date
The filing date of the application (see below). If the application validly claims priority, the effective date is the priority date, used for assessment of novelty and inventive step.
Filing date
The date on which the application is filed at the office, and on which it fulfils the requirements for obtaining a filing date. If the application does not fulfil these requirements, a filing date is not obtained until the requirements are met.
Lapse
End of protection. The protection can end because the protection period expires, or because the protection is no longer maintained.
Period of protection
The period of protection typically denotes the maximum protection time. Trademark registrations can be in force eternally, as long as the registration is renewed in time. Often, it is also necessary to prove to the office that the trademark is in use. Design registrations as well as patents and utility models can only be in force for a limited period of time. For designs, this is typically 15-25 years depending on the country. Patents can be in force for a maximum of 20 years and utility models usually 10 years. Most often a renewal fee needs to be paid regularly to keep the protection in force.
Priority
An application is usually filed first in one office, and within the priority period (depending on the type of protection, 6 or 12 months), an application can be filed in other offices, and the trademark, design or invention of the application is examined as if the later application was filed on the priority date. The priority period thus allows the applicant to consider where to seek protection, often get a first opinion from the first office, and for example obtain funding for applying protection in other countries.
Abbreviations in the field of IPR here.