Laine IP welcomes our three new European Patent Attorneys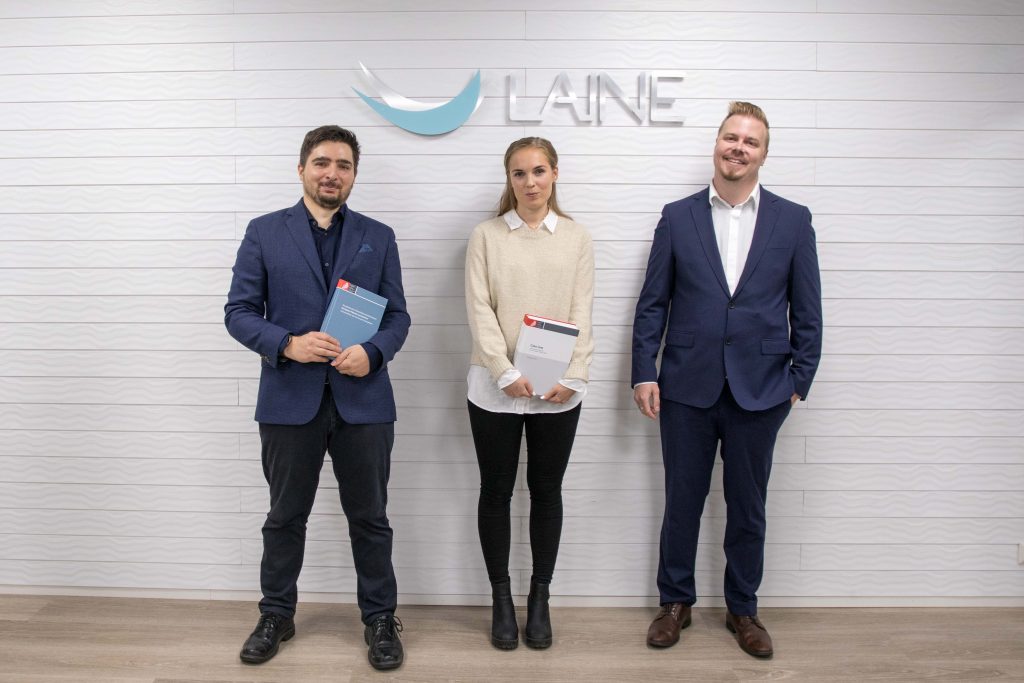 Laine IP's roster of European Patent Attorneys was recently increased to twenty, as our successful candidates Liisa, Jouni-Tapio and Toimi have been added to the EPO's list of representatives. The trio is very pleased to pass the examination, as the pass rate is below 50%.
A candidate can spend around a thousand hours of intense preparation, according to Toimi. He spent countless evenings and weekends studying. Training courses and Laine's internal study group also played a part in preparation.
"The EQE requires a long-term mindset regarding studying, as the syllabus is thousands of pages", says Toimi.
A challenging professional qualification

According to Jouni, European qualification is a natural career development for a Finnish Patent Attorney.
"I wanted to challenge myself and follow in the footsteps of my colleagues. As an EPA, I can now represent clients in all EPO proceedings, which allows me to help clients in more ways than before", states Jouni.
Liisa points out that preparing for the exam is a key part of learning the profession and developing one's skills. In this, an important role was played by more experienced colleagues.
"We have a supportive atmosphere regarding studies. Colleagues would give tips on what to study for the exam, and also help to explain difficult matters", says Liisa.
A kind of guarantee in patent matters
CEO Jarkko Tiilikainen congratulates the trio, as it is no easy task to pass the EQE.
"I am proud that we have smart and ambitious attorneys. It is important for our firm that we are constantly developing a new generation of top experts", Jarkko states.
According to Jarkko, the European Patent Attorney qualification is a kind of guarantee in patent matters. A client can trust that an EPA knows the law and can apply it in practical situations.
"EP qualification is an indicator that the basics are well in hand. After qualification, the attorney will develop their skills even further", says Jarkko, who passed the EQE in 2001.
It is a point of pride at Laine IP to support our staff in developing their skills. For example, the firm organizes internal as well as external training for EQE candidates.
Text: Matti Remes
English translation: Toimi Teelahti
Photos: Laine IP