Laine IP's US Team approaches 500th US Patent
–
News
–
28.12.2022
We thank our clients for placing their trust in Laine IP for assistance with their global intellectual property (IP) needs in 2022, including utilizing our internal US Team to handle US IP-related matters.
2023 promises to be an exciting year for Laine IP and the US Team!
500th US Patent Coming in 2023
In 2022, Laine IP helped acquire 69 US patents for its clients, thereby bringing the total number of US Patents acquired by the US Team since its inception in 2010 to 491. The annual number of US patents obtained by Laine IP (formerly Seppo Laine Oy) is shown below.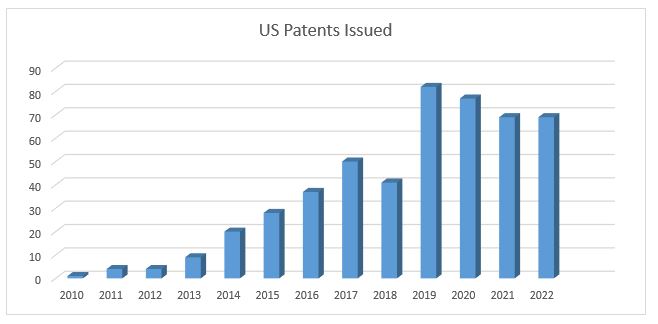 At the current count of 491, it is expected that the US Team will acquire the 500th patent for its clients within the first quarter of 2023! With permission of the patent owner, we will provide an announcement and potential feature of the 500th patent to issue.
US Team IP Service Offerings
The US Team continues to be a resource to clients having global IP interests, which include the US. The US Team offers services, such as the:
preparation and prosecution of US patents and trademarks
preparation of legal opinions (patentability, infringement by others) related to US IP rights
preparation or review of licensing or sale agreements involving US IP rights
providing of counseling services related to US IP rights, including the jurisdictional limits of any US IP rights and
preparation of valuation reports related to US IP rights, including patent valuation reports for particular patent applications or patents, patent families, and/or patent portfolios.
Contact
If you have any questions or concerns involving US Intellectual Property Issues, please contact a member of our US Team.
We look forward to working with you in 2023. Happy New Year!